iN
'iN is the development of the city through the electronic music scene' - this was and still is iN's slogan. As a place of alternative recreation, it was the first of its kind in Baku, and it broke a lot of stereotypes. iN's first location opened on 13.03.2015
"There are a lot of funny stories, for example when some guy comes to the club and says 'I want to book a table'. We say 'Sorry, we got only one table, and this is the DJ booth', and he says 'No worries, we can sit there'."
The beginning
The iN crew drove almost every weekend for 7 hours back and forth to visit the Bassiani and KHIDI club in Tbilisi, using the time on the road to think about how they could bring electronic music and club culture to Baku.
Not an easy task in a country where the most popular forms of nightlife are traditional weddings and shisha lounges, and the government does not recognise electronic music as a form of music.
Since 2015 iN opened and closed 6 locations. However, they are dedicated to their mission, and are working on opening a seventh location.
"The clubs and bars are not even in the list of the weekly announcements from the government about the Covid restrictions. There are just weddings and restaurants. The weddings are the main events here in Azerbaijan, it's huge. For 2 years everything had to be closed here at 11:00pm. Now we understand, since there is no limit anymore for weddings, that means that we can also do something."
Development
iN's parties have grown from around 30 to 500 hundred people. Local artists are upcoming, record labels have been set up, and the scene is developing.
International support from platforms such as Boiler Room, but also from the British Council and Goethe institute, has helped to get local recognition. Relations with the Ministry of Culture slowly improve, as they are starting to see the value club culture can have.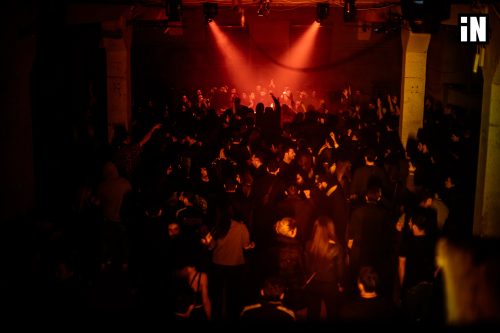 "We want to show that the dancefloor is an utopian society where everyone is equal, and the dancefloor is the place where, actually for 12 hours, you can feel yourself free and save. There's a lot of work ahead with these things, but I believe with this movement we unite a lot of people behind us. And they actually feel that they are part of our family."
"It's very important for us that the usual crowd, or someone who never has seen these kinds of things in the past, comes to the club and sees this kind of.. reunion. And they see the dancefloor.. and then they go home, sleep, and start to think about 'what was it'? It was very friendly, it was not like the rest of the city.. there was no hate."
Interview
Listen back to full interview with Natig Ismayil from iN at our Space of Urgency radio show on Refuge worldwide.