Aurora
In Hungary, communities and NGOs that support refugees and other minorities, or hold pro feminist or LGBTQ+ views, continue to be oppressed by the right-wing government. Auróra came to life as a response to wide-spread xenophobia and government efforts to suppress minorities and civil initiatives in Hungary over the past few decades. A community and cultural center and NGO hub that opened in 2014, Auróra connects civil society groups, activist organizations and cultural programs that are working to protect and empower Hungary's marginalized communities. 
The Urgency
"It started with some really small steps, some things which you can say we find something similar in other countries in Europe. But then it became much more and more worrying."
THE DOMINANCE OF RIGHT-WING POPULISM
In 2010, the right-wing populist party alliance Fidesz–KDNP reclaimed political control in Hungary, after running the country throughout the late 1990s and early 2000s. Led by Victor Orbán, the conservative government has had almost unlimited power over the last decade, enjoying widespread support from the electorate – the alliance was reelected again in 2014 and 2018, winning a huge majority of seats in parliament. To give an example of the party's reach, Budapest is divided into 23 districts, each with their own mayor and electrical council. Out of the 23 districts, 17 have been led by Fidesz–KDNP since the 2014 municipal elections, some for even longer, such as Józsefváros (the 8th District), where Auróra is located. The rise in popular support of the Orbán government and their right-wing policies does not bode well for religious minorities and other marginalized groups in Hungarian society.
Projection of right-wing supporters during a film screening at Auróra, 2018. Photo credit: Auróra
Protesting anti-LGBTQ+ policies at Hungarian Parliament, 14 June 2021. Photo Credit: Nick Bateman (© All rights reserved)
Billboards of Orbán's national consultation on the Soros plan in Zichyújfalu, Hungary, 2018. (CC0 1.0) Public Domain Dedication
XENOPHOBIA & CHRISTIAN CONSERVATISM
Almost all of Europe was affected by the refugee crisis that began in 2014. As Muslim refugees poured in from Syria and other Islamic countries, they were met with rising xenophobia. In April 2015, 46% of the adult population in Hungary reported that they thought asylum seekers should not be allowed to set foot in their country, especially those from Arab countries (94% of respondents). Hungary continued as one of the least tolerant EU member states in 2016, with well over half of the adult population reporting that they felt threatened by refugees regarding access to jobs and social benefits, as well as an increased likelihood of terrorism. The wide-spread xenophobia extended to the LGBTQI+ community, with large segments of the Hungarian population expressing fear that their Christian "democracy" and society based on family values would somehow be overrun by Muslims. According to Reuters, when Fidesz won the European Parliamentary elections again in 2019, Orbán told supporters, "the election victory means that … Hungarians gave us the task of… stopping immigration all across Europe… [to] protect Christian culture in Europe."
Video: President Victor Orbán speech in the European Parliment "You are condeming Hungary" , Euractiv
RESTRICTIONS AGAINST NGOS, LIBERAL MOVEMENTS & ALTERNATIVE CULTURE
In Hungary, legal, administrative and financial measures taken by the government target self-organized alternative communities, and have grown worse over time – escalating to criminal investigations, smear campaigns and verbal assaults. 
The Orbán government began by targeting certain international companies and organizations and prominent individuals: politicians, activists on the front line and public figures covered by independent media. One of the most high-profile attacks was a 2017 smear campaign against the Hungarian-born investor and philanthropist George Soros, during which the government installed approximately 2,000 billboards across the country defaming Soros. They did not stop with Soros himself, targeting the Open Society Foundations and eventually forcing the Soros-funded Central European University to relocate its US accredited programs to Vienna in 2019.
In June 2018, the government passed the 'STOP Soros' legislation. The package of bills restricts and criminalizes NGOs assisting asylum seekers and refugees. A 25% tax on aid groups supporting immigration was introduced, as well as a law that requires all NGOs receiving more than 7.2 million Hungarian forints (20,096 EUR) a year from international donors to publicly register as a foreign-funded organization. The need for foreign funding is largely a result of the GONGOs(government-organized NGOs), which are financed by the ruling party to carry out its conservative political agenda, a trend seen across countries with repressive regimes. With no coordination among the political opposition to secure domestic funding, Hungary's legitimate civil society is left to look outside of its borders.
Video: Hungary MPs back controversial "Stop Soros" law, France 24

This new legislation has placed extreme pressure on community groups such as Auróra, which provides subsidized office space to NGOs working to promote immigration rights and create safe places for oppressed minorities and marginalized communities. The Orbán government began to go after smaller communities and NGOs, as well as ordinary citizens. They have directly targeted the Auróra community, the Budapest pride community and similar organizations. This new kind of  "Kulturkampf" against alternative culture has only continued to grow.
The Space
"They wanted to work together. They wanted to establish this new place together. And this was the birth moment of the Auróra collective."
HISTORY
Auróra began as a reaction to government oppression of civil society and alternative culture in Hungary, and has been committed to providing a space where individuals, groups and non-profit organizations can meet and share their ideas and collaborate with each other on new initiatives. Auróra was established in 2014 by the Jewish youth group Marom Budapest. Prior to this, the group ran a cultural center, Sirály, which was open from 2006 to 2013. It had three levels: concerts and theatre performances were held in the basement, at the street level there was a bar and the first floor housed a small event and exhibition space. In 2013, the local government evicted Sirály, but the organizers and the community occupied the basement for almost 1.5 months. After that they had no other option than to leave the space and look for something new.
USE OF THE SPACE
Eventually Auróra found a new location, where they could also provide spaces for several other NGOs that focus on marginalized and stigmatized groups and issues such as HIV, LGBTQI+ rights, Jewish and Roma culture, community solidarity programs, education for disadvantaged children, the housing crisis and homelessness, and independent media. Besides gigs and parties, Auróra provides a place for alternative theatre, community discussions, film screenings and exhibitions. Along with cultural community events and programs for children, there's a place for grassroots initiatives to meet and hold debates and roundtable discussions about current social issues. Auróra has a community of 50 volunteers and is run democratically as a self-organized, self-governing collective.
DIRECT ATTACKS ON AURÓRA 
Demonstrations and attacks against individuals or communities seen as a threat to Hungary's right-wing policies continue to be heavily supported by the current national government, and until the end of 2019, were also supported by the local government. Between 2017 and 2019, Auróra was subjected to multiple raids initiated by the local government at the time, with the aim of closing the center down. It started with a drug raid in 2017, followed by various other forms of intimidation and pressure, including revoking operational licenses or forcing consecutive temporary closures. Auróra has been directly targeted a number of times, both from the government and far-right groups.
BUREAUCRATIC ATTACKS
2017: Legislation introduced in Budapest's 8th district, led by a mayor who is a member of Fidesz, prohibits bars from staying open after 10pm, meaning Auróra will have to close its bar early and lose revenue.

June 2017: Auróra is shut down for four months after a raid during a concert leads to the arrest of 15 individuals identified as customers who had minor amounts of marijuana on them. The Budapest Capital City Government Officesubsequently declared that the District VIII municipality's closure of two bars run by Auróra was unlawful.

March 2019:  A press release from Mayor Botond Sára, condemns Auróra and threatens legal action, portraying them as loud and disruptive to the "peace of the population." The mayor urges the building owner to take action and even offers to buy the building so he could "take care of the problem himself." The owner declines.
ATTACKS BY FAR-RIGHT AND NEO-FASICIST GROUPS
THE COMMUNITY
In a country that has failed to accept, let alone support, various segments of society, Auróra offers free, open and safe spaces to marginalized communities that are democratic, self-organized, counter-cultural, alternative, underground, open-minded, tolerant, socially just, socially active and inclusive of minorities.
Auróra houses several NGOs including the independent Roma Press Center; the headquarters of a school for disadvantaged children; and Budapest Pride, an LGBTQ+ support group, among others. In 2018, the spokesperson for Budapest Pride told CNN"this building is a symbol for us – of solidarity, community, peace, where we share our knowledge and equipment."
UNIQUENESS
Auróra is one of the last open, free and safe spaces in Budapest for like-minded, socially active citizens who want to organize and effect change in their society. It's also one of the only remaining cultural centers in Budapest for counter-cultural, alternative and underground cultural events and artivism, making it critical to maintaining and strengthening civil society in Hungary.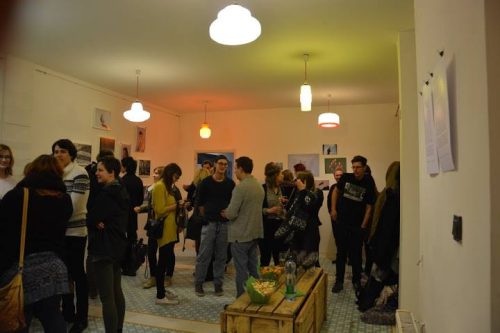 A FRAGMENTED OPPOSITION
Adding to the need for spaces such as Auróra is the fragmented nature of the country's political opposition. According to some, including Hunagrian Green MP Bence Tordai and Éva Pákozdi from the Hungarian European Women's Forum, the competition and power games between parties that oppose Fidesz has inhibited a united front. While political parties fail to come together against the Orbán government, civil society groups have been left to pick up the pieces and provide community support. With collectives like Auróra, civil society has at least one space in Hungary to organize and coordinate efforts. 
Resilience Strategies
"It was in that specific moment, almost lifesaving to get so much little donations of five to ten to twenty Euros each, from abroad and also in Hungary from people you'd not expected it's, because they saw that there is a center which is standing up to for their rights and they don't give up."
MEDIA STRATEGY
To resist pressure and attacks from the national and local governments, Auróra's primary strategy was to use the media. Their advantage: personal connections to journalists in Hungary as well as abroad. The story about the raids Auróra faced was picked up by international media like Al Jazeera, CNN and VICE. This was invaluable in raising awareness for their case and broadening their network of supporters.
COMMUNITY-BUILDING
Auróra was built on a strong sense of community, and participative and communal decision-making, with regular input from it's volunteers. The only capital you need to be involved in the decision-making processes is the time you invest and spend at Auróra. This horizontal, inclusive organizational structure provides a strong cohesion within the group and the motivation to work collectively to defend Auróra and the values it promotes.
FUNDRAISING
Through their Facebook group and widespread advocacy network, Auróra gained more visibility and support, resulting in donations that helped them survive in the months following the raids and  forced closure. Approximately 3,000 EUR was received from within Hungary and abroad, mostly in the amount of 5, 10 or 20 EUR per donation. This might not seem like a lot of money, but it kept the organization alive during a time of zero income. 
In addition to more direct fundraising, Auróra's position within the community has also resulted in acts of solidarity from other oppressed groups. Rev. Gábor Iványi of the Hungarian Evangelical Brotherhood, a Methodist church that was unlawfully stripped of its status by the Hungarian government, won a court order where District Mayor Máté Kocsis had to pay 300,000 forint in damages to the church. The church in turn donated 10% of the pay out to Auróra. The letter from Rev. Iványi stated: "A second-level court ordered [Máté Kocsis] to pay me 300,000 Forint. With great respect, love, and friendship, I would like to offer up ten percent of this to you in this difficult time, wishing that [God] gives you much strength, serenity, peace, and success."
News article published by CNN
Collective work on the Auróra building. Photo credit: Auróra
Auróra's public thank you to Rev. Iványi. Source: Twitter
PROTEST AND DEMONSTRATIONS
In April 2017, after the government threatened to restrict NGOs with foreign connections and shut down the Central European University, Auróra helped organize a large demonstration. Around 15,000 people gathered on the square in front of the parliament. Speeches from activists and victims of the regime were given, interchanged with musical performances. It was the first large-scale demonstration with music in Hungary and drew the attention of the media around the world. This protest was just one of many that have taken place against the government in the last few years.
Video: Demonstration organized by Auróra in April 2017. Video credit: Arno Bouma
COLLABORATIONS
Political pressure on civil society is increasing (not only in Hungary but across most of Europe), with the possibility for open, critical dialogue on social and political issues diminishing. To address the lack of opportunity for all facets of Hungarian society to debate and mobilize within the public sphere, Auróra and it's parent NGO, Marom, have initiated "Szabad Terek/Open Spaces: Addressing the Shrinking Space for Civil Society" in Hungary. Open Spaces is a community development initiative that relies on principles of solidarity and cooperation among community spaces, organizations and activists, in order to strengthen their individual efforts at the local level. There are three major areas which the coalition will tackle: governmental harassment, self-censorship and the isolation from possible alliances between civil society initiatives.